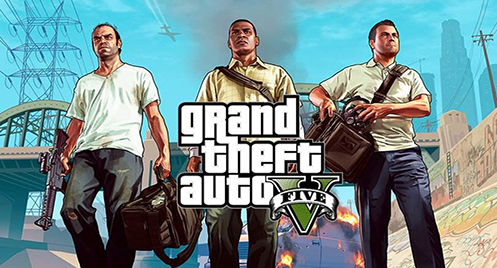 Buy GTA 5 Xbox One
After payment you will receive a license activation key in the Xbox One system.
The fifth chapter of the cult action game will send players to Los Santos - a huge city in Southern California, worked out to the smallest detail. Moreover, the game will represent not only the megalopolis filled with life, but also its surroundings - from mountain peaks to ocean depths.
Los Santos is the city of the sun, starlets and released stars. Once the envy of the entire Western world, it is now the home of trashy reality shows, choking in the grip of economic problems. At the center of all the confusion is a trinity of completely different criminals, desperately trying to grab their luck by the tail in an ongoing struggle for a place in the sun. Former street gang member Franklin is trying to tie up with the past. The retired bank robber Michael discovers that in an honest life, everything is not as rosy as it seemed. Crazy Trevor, turned on violence, interrupts from one businessman to another in the hope of hitting a big jackpot. Having exhausted their options, these three put their own lives on the line and commit a series of daring robberies, in which - either pan or disappeared.
In Grand Theft Auto V, fans will not only have the largest and most detailed world ever created by Rockstar Games, but also the opportunity to influence the lives and deeds of three main characters at once. This interweaving of stories of several characters will make the game as fun and exciting as possible.
All the attributes of the famous series are fully inherent in GTA V - here and incredible attention to detail, and branded black humor, and ridicule of pop culture, and even a completely new, incredibly ambitious multiplayer mode. p>
In a browser, go to Redeem Code and sign in to your Microsoft account.
Enter the 25-digit prepayment code, in the window that opens, click the Confirm button.
Feedback from our clients
There are no reviews for this product yet
show more